SKIP-A-PAY
Published: 11/06/2020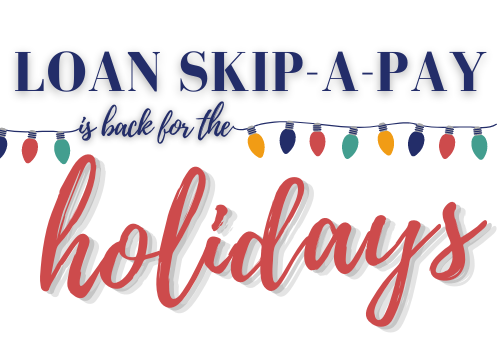 Skip-A-Pay is back for the holidays!
Take advanage of our promotion and SKIP an eligible MOVFCU loan payment in the month of November or December for just $25.00.*
Ready to apply for our Holiday Skip-A-Pay?
Questions? Please contact a Credit Union represenative by phone or email: [email protected].
Details: The skipped payment will be added to the end of the loan, thereby extending the term of your loan. Finance charges will continue to accrue during the skipped period. If you purchased gap (guaranteed asset protection) on your loan, coverage may be affected by skipping a payment. Payments made via payroll deduction or direct deposit will be placed in your share savings account. If your payment is made via automatic transfer from your account, the payment will not be taken. Please stop any recurring payments you have created through ach or bill pay with another institution if you wish to not have the funds placed in your share savings account. All borrowers on the loan agreement must sign or the request will not be honored. Real estate loans, Next step plan's and lines of credit are not eligible. A fee of $25.00 per loan applies. Loans must be current, and your account must be in good standing. One request per skipped loan. You may not participate in the promotion if you have not made your first loan payment on a new loan. Loans originated after May 1, 2016 may not complete more than eight (8) skips during the life of the loan. Only two (2) skips are allowed per calendar year and may not be consecutive. Other payment deferments completed in the last 12 months may make you ineligible for this promotion. All Skip-A-Pay's are subject to credit union approval.
Back to all news & events